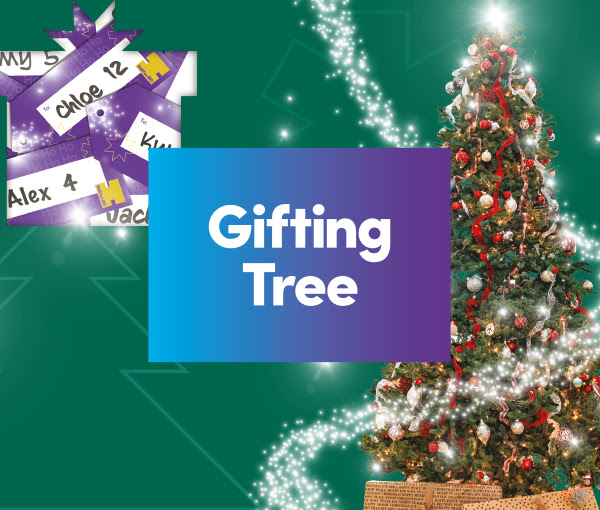 15 Nov

Additional charity Gifting Trees will help to light up town as well as put smiles on vulnerable children's faces this Christmas

A popular Halifax charity initiative will once again feature in the town's busy Christmas programme, except that this year the initiative will be even bigger and better than before. Not one but six beautiful Charity Gifting Trees will be distributed in locations around the town centre, providing a stunning festive spectacle while also offering locals and visitors the chance to donate a gift to a charitable cause.

This initiative is the work of Halifax BID: the not-for-profit organisation responsible for financing and managing much of the town's Christmas activity, all as part of its drive to help the local economy. In light of the fantastic response to last year's Gifting Tree, this year BID has arranged for a total of six trees to be placed in accessible public locations around the town centre: Borough Market, Santander, Trinity Sixth Form, Harveys, Barrhead Travel, and Halifax BID's own 'Discover Halifax' Hub in the Woolshops area of town.

The way the trees work will be exactly the same as in previous years, with members of the public encouraged to choose a tag and then buy a present for an anonymous child who fits the tag's description, like 4-year-old girl, or 10-year-old boy. The present should be left under one of the Gifting Trees and will be safely collected and then donated to one of various local charities, including Halifax's very own Community Foundation.
Halifax BID's Project Manager, Chloe McNeill, explained the thinking behind the initiative,

"Christmas time is a big deal in Halifax so we've planned lots of fun and light-hearted family events and spectacles for the town, but it's also a time to think about those less fortunate than ourselves, especially after the devastating physical and financial impacts of COVID. Last year our single Gifting Tree proved immensely popular and residents really dug deep, giving very generously indeed. In fact, our chosen charities were delighted to be inundated with gifts. While we don't want people to feel guilty if they can't donate, we do want to make it as easy as possible for anyone who can, so this year we've got five extra trees to donate at. Every one of them will be looking fantastic and lighting up its location, as well as helping a very good local cause."